Initiating/effector versus regulatory mechanisms in Multiple Sclerosis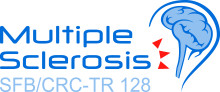 Multiple sclerosis is the most common chronic inflammatory disease of the central nervous system in the western world. In Germany alone more than 120,000 people are affected. However, only limited treatment options are currently available. Thus, one of the central goals of the CRC/TRR 128 "Initiating/effector versus regulatory mechanisms in Multiple Sclerosis – progress towards tackling the disease" is to better characterize existing therapies as well as to develop novel therapy concepts. In addition, the researchers aim to understand the essential nature of MS and how it arises and progresses.
The linking of scientists from neighboring fields with classical neuroimmunologists, who are already recognized in MS research and care of MS patients, provides ideal conditions for success. Of particular importance is the strong bidirectional interaction between basic and clinical research that promotes the effective translation of knowledge from bench to bedside and vice versa.
The CRC/TRR 128 brings together researchers from the Rhine-Main area, Münster, and Munich. Like the CRC 1193, the CRC/TRR 128 is embedded in the Focus Program Translational Neurosciences (FTN) of Mainz University and the Rhine-Main Neuroscience Network (rmn2). The rmn² coordinates the central research projects for the education and therapy of brain diseases in the Rhine-Main area.
Link to project website