Ancient Egyptian cursive scripts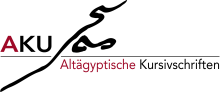 The research project "Ancient Egyptian cursive scripts. Digital palaeography and systematic analysis of hieratic and cursive hieroglyphic writing" (AKU) documents and analyses ancient Egyptian manuscripts from three millennia. The aim is, first, to create a digital palaeography of cursive characters from various texts, writing materials, and epochs, which will be made accessible to the public in the form of an online database.
Second, focus is on evaluation of the material: how did the cursive scripts develop and what is their relation to hieroglyphic writing? Further aspects of research include, among others, the economics of writing, the direction of writing, and the layout of texts. The long-term project of the Mainz Academy of Sciences and Literature, is an interdisciplinary cooperation of Egyptology at Johannes Gutenberg University Mainz (JGU) and Computer philology at TU Darmstadt.